It's been a rocky start for the tech industry in 2023, with reports showing that more than 500 tech companies have laid off over 150 000 employees. In just the first quarter of 2023, the tech industry has already experienced more than 90% of 2022's total layoffs, making it understandable that tech professionals, job-seeking or not, are feeling concerned. But don't let those numbers mislead you – the tech jobs market is more stable than you think.
WHY ALL THE LAYOFFS?
During the Covid-19 pandemic, the biggest technology companies experienced a significant increase in demand for their products, leading to substantial profit gains and workforce expansion. However, as worldwide economic growth slows down, businesses are now laying off employees, most commonly citing a drop in customer demand and the necessity to minimize expenses as key justifications for their decisions.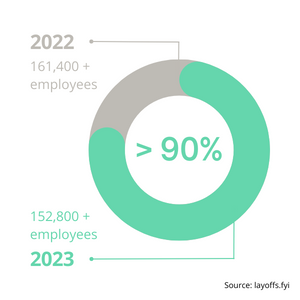 GERMAN TECH JOB MARKET
Recent studies in Germany reveal that the demand for skilled tech professionals remains high, with over 137,000 IT Expert positions currently unfilled. This number has more than doubled since 2017 and is even higher than in the pre-pandemic year of 2019. One of the primary reasons for the shortage of skilled labor is a demographic shift – older tech professionals are aging out of relevant positions, and fewer qualified young professionals are entering the tech labor market. In fact, according to the study, only 8% of companies currently report that the supply of IT specialists is sufficient. Simultaneously, the average time required to fill open tech positions has increased to seven months, significantly increasing vacancy costs and productivity losses.


HIRING THROUGH FUTUREPATH
At Futurepath, we've seen a steady growth in the number of tech positions available, indicating that there is continued demand for technology professionals.
"While some may see the current wave of layoffs in the tech sector as a sign of instability, at Futurepath, we see it as an opportunity. The demand for skilled tech professionals in dynamic industries, such as the automotive technology industry, remains high. Thus, we are committed to connecting top talent with exciting job opportunities across the Volkswagen Group companies."
We're hiring for hundreds of permanent and freelance openings across various recruiting domains, including Software, PM/PO, System, HW & Quality, and others. With the combined expertise of our recruiters in automotive and tech recruiting, we actively source freelance and permanent candidates so that you, as a hiring manager, don't incur losses due to long hiring times and paused projects.
We offer flexible hiring solutions tailored to the unique needs of our Volkswagen Group clients, which can result in a placement turnaround time of fewer than two weeks. To ensure the quality of our candidates, we conduct tech checks based on a unique peer-to-peer assessment approach, which guarantees that the candidates we recommend have the necessary skills and experience to succeed on short-term projects and long-term positions.
Are you looking for qualified tech talents or new job opportunities across the Volkswagen Group brands? Learn more about us below or send us your CV to push start on your Futurepath journey!
Source: Bitkom. (2022). Der Arbeitsmarkt für IT-Fachkräfte 2022; layoffs.fyi.
Hiring Manager
Decrease recruitment timelines and costs

Recruiting solutions tailored to your needs

Benefit from exclusive VW Group expertise
Learn More
Schedule a call
Tech Talent
Expertise in navigating the VW Group hiring process, direct contact with the hiring managers
Exclusive early access to new job openings
Send CV